hand forged IRON coffee table. GLASS top for easy clean up. HAS A RICH TEXTURE AND IS ASSEMBLED WITH LARGE RIVETS. APPROX. 14" HIGH X 24" X 40".................$1450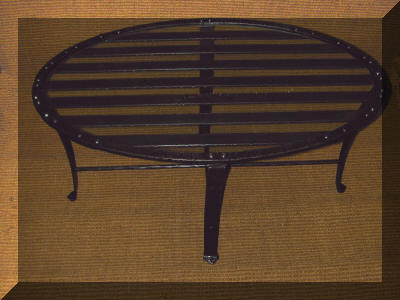 dimensions & weights given are approximate and will vary slightly. no two pieces will be exactly alike.
all ironwork is guaranteed to please the most discerning client. each piece of original and functional iron art is wrought with hammer & anvil by an accomplished artist blacksmith. we forge the finest furniture, fireplace accessories, gates and railings, and other home accessories in iron as well as silicon bronze, aluminum, and stainless steel.
custom orders welcome.
to inquire or place an order, please call: 307-754-4173 0r email: