sleep peacefully all night long in this mystical dream catcher bed..........according to legend, a dream catcher above the head of the sleeping one will catch all bad dreams in its silver web while allowing all the good dreams to pass through. then, at first light, the healing rays of the sun will burn off any bad dreams caught in its web..........
IRON, STAINLESS, BRONZE, NICKEL, SILVER. QUEEN SIZE. ABOUT 600 LBS...........$35,000
King Size...............$40,000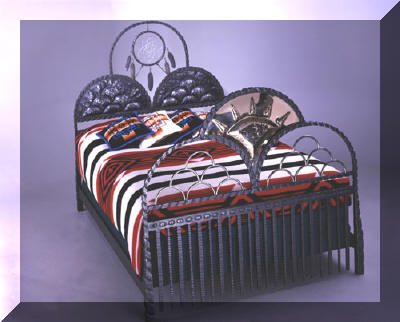 all ironwork is guaranteed to please the most discerning client. each piece of original and functional iron art is wrought with hammer & anvil by an accomplished artist blacksmith. we forge the finest furniture, fireplace accessories, gates and railings, and other home accessories in iron as well as silicon bronze, aluminum, and stainless steel.
shipping is included in prices. dimensions & weights given are approximate and will vary slightly. no two pieces will be exactly alike.