A HALL TREE IS AN ELEGANT OLD FASHIONED ENTRY WAY PIECE. AMPLE CEDAR LINED STORAGE UNDER THE SEAT TO KEEP YOUR BOOTS AND SHOES out of sight. GIVE YOURSELF A LAST MINUTE CHECK OVER IN THE LARGE iron WOOD GRAIN FRAME OVAL MIRROR. PLENTY OF STYLIZED wrought iron LEAF HOOKS FOR HATS AND COATS. CRAFTED FROM IRON, ALUMINUM, COPPER, AND CEDAR SLABS. ABOUT 38" WIDE AND 6' 5" HIGH........$20,000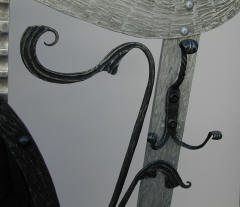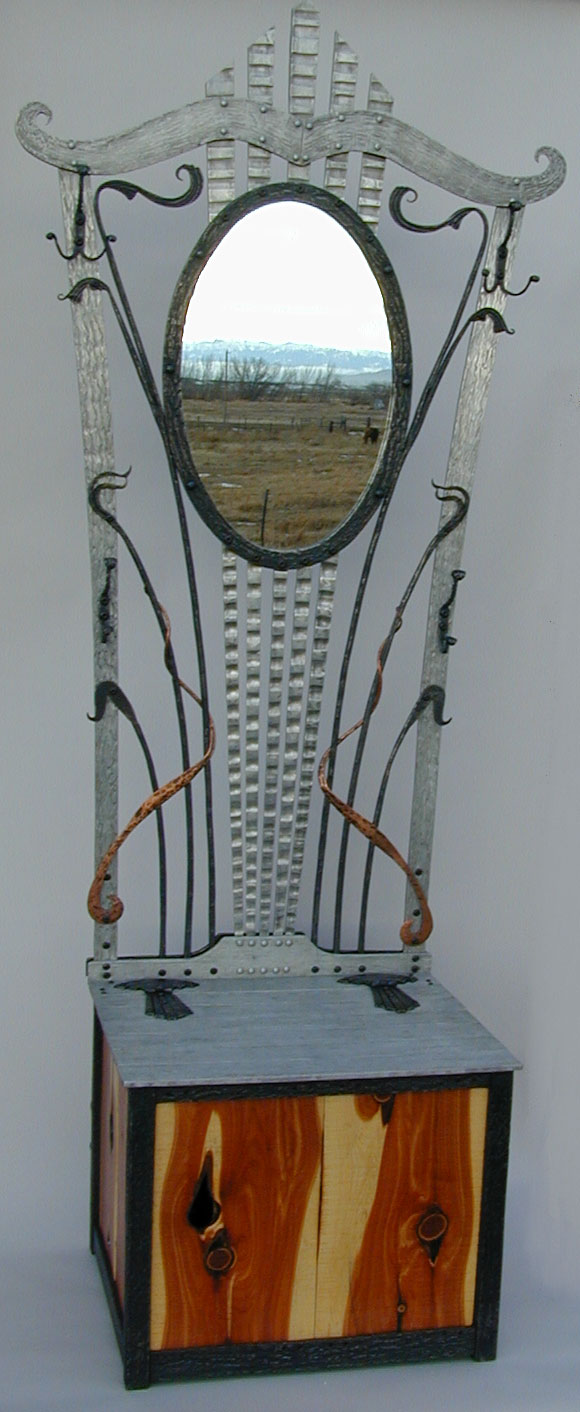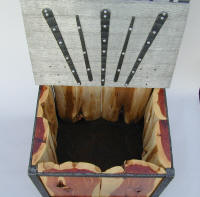 shipping is included in prices. dimensions & weights given are approximate and will vary slightly. no two pieces will be exactly alike.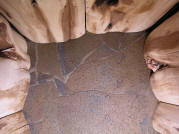 ROCK IN BOTTOM, under the seat is FROM WHISKEY CREEK MONTANA
all ironwork is guaranteed to please the most discerning client. each piece of original and functional iron art is wrought with hammer & anvil by an accomplished artist blacksmith. we forge the finest furniture, fireplace accessories, gates and railings, and other home accessories in iron as well as silicon bronze, aluminum, and stainless steel.
custom orders welcome.
to inquire or place an order, please call: 307-754-4173 0r email: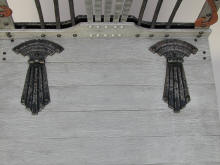 FORGED WOOD GRAIN ALUMINUM SEAT WITH HAND FORGED SUNBURST HINGES.